iPad - iPhone - iPod

Warning : Incompatible with iOS 9.0 and above

Lite version and full version are available on Apple Store

Mac

Full version available on Mac App Store
Click here to download the free version of bOxOn for Windows

Version :

Open the downloaded zip file and copy bOxOn_lite.exe where you want it to be on your computer (on the Desktop for instance). No installation needed.

bOxOn is compatible with Windows 7, Vista, XP.

Buy the full version of bOxOn : 4,99€

A download link will be sent to you by E-mail

bOxOn PC is available in 15 languages: English, French, German, Spanish, Italian, Dutch, Portuguese, Polish, Hungarian, Bulgarian, Swedish, Afrikaans and Romanian. (See technical documentation for Chinese and Hebrew)
As its name suggests in French, bOxOn is a game in which disorder reigns. Multicoloured Boxonites have massively swarmed into the numerous levels of the game. The challenge is to put bOxOn in order by suppressing all Boxonites scattered on the board! Quite docile, Boxonites are commanded by mouse and merge when they come into contact with a Boxonite of the same colour.
First combined in a single block, Boxonites explode, freeing space on the board.
bOxOn is a mixture of the Taquin game and the modern "Same Games" and is inspired by Tetris and Rush Hour. It revisits the genre of the sliding puzzle and offers a completely new gaming experience that surprises by its simplicity and its cleverness.
BAMARENLIVE :
"Très basique graphiquement bOxOn se révèle être un bon jeu de casse-tête car lorsqu'un niveau vous résiste, impossible d'abandonner et c'est bien là que l'on reconnait les bons jeux du genre." B.AMAR
GAMEBLOG :
"Original, malgré son apparence « déjà vu », bOxOn part d'un concept tout simple qui permet un grand nombre de tableaux [...] ce qui fait de bOxOn un puzzle game intéressant pour la famille." FUMBLE
CANARD PC :
"Ca a l'air simplissime et c'est le cas pendant les 100 ou 200 premiers niveaux [...], mais j'ai abandonné tout espoir de finir un jour les 553 puzzle de bOxOn : sur la fin c'est trop pour mon petit cerveau" Version iPad : 8/10 - n°244 - 15 novembre 2011
HITPHONE :
"L'apparemment petit jeu qui ressemble à beaucoup d'autres est en fait une terreur. Le genre de concept à la Tetris qui ne paie pas de mine et qui entraîne pourtant, tableau par tableau, sur la pente dangereuse de l'addiction vidéoludique". Bliss de la Boissière
NEMCOSHOW :
"Un jeu des plus simples et des plus compliqués à la fois. Simple par la prise en main, parfaitement adapté aux écrans tactiles, ardu dans les niveaux supérieurs. [...] Customisable, malin et rapide, tout ce qu'il faut sur tablette et Smartphone." Nemco
JEUX VIDEO MAGAZINE :
"Frédérick Raynal nous propose une variante pleine de malice de TETRIS où logique et anticipation permettent de se sortir de ces cauchemars géométriques.16/20"
HOOKSHOT Inc.
"Now, bOxOn isn't perfect. It does, however, force your brain to work in new and interesting ways." Will Porter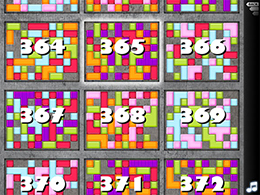 bOxOn offers 553 levels arranged in order of increasing difficulty. They are all made available in a list from the start of the game onwards.
Scroll down the list and click on the level of your choice. If you find it too difficult, return to the list and choose a level with a lower number. If on the contrary the level seems too simple, do not hesitate to choose one with a higher number further down the list to find a challenge that suits you.

Les 100 premiers tableaux d'une grande simplicité permettent de découvrir le principe de bOxOn sans être confronté à des situations trop inextricables. Puis très progressivement les espaces libres du plateau se raréfient ou le nombre des boxonites différentes diminue, donnant à bOxOn toute sa complexité. Observation, expérience et patience sont alors nécessaires pour venir à bout de tableaux qui se révèlent peu à peu être de véritables casse-têtes.
| | |
| --- | --- |
| | Return to previous menu. |
| | Back. Click as many times as necessary to return to the desired state. Right-clicking the mouse also works. |
| | Restart the board from the beginning. A double-click on PC and MAC or a long pressure on iPad is enough to put all Boxonites back in their place. |
| | Is displayed if the level has been solved successfully at least once. It is reset at each restart. |
| | Back to the main menu. Stopwatch is stopped. |
| | Returns to the latest level in the state you left it. |
| | Enables you to turn off or turn on the music without switching off the sounds of the game. |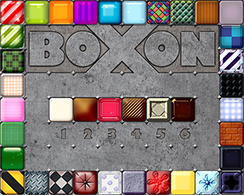 One of the functionalities in bOxOn can be accessed from the OPTIONS / STYLE Menu and enables you to change colours as suits you on the various levels.
You just have to place 6 of the 38 Boxonites available in the numbered boxes right in the middle of the screen, to replace those you don't like. The style is then applied to all levels and to the various menus.
A double-click on the "Note" Icon allows you to have the various musical themes cycle.
On iPad, the Multitouch function allows to increase the scroll speed of the levels list by using 2 or 3 fingers simultaneously.
The iPad Multitouch enables you to move several Boxonites at a time. So it is possible to have 2 kids play at the same time at an easy level.
To clean a bOxOn level, you must focus on one colour of Boxonite at a time. If you can't solve a level, start again from scratch and select another starting colour. When you have experience, you will determine fairly easily which colour should be suppressed in priority.
On complex levels, it is essential "to make spaces" by arranging secondary Boxonites without agglomerating them, so that you can free some space and move Boxonites you have decided to suppress first.
The style of Boxonites can be changed at any time, even during the game. So if you can't progress on a level, consider changing style. A different layout with more contrast in colours can allow you to look at the bOxOn game with a fresh eye.
Original idea and programmation (PC & Mac) : Frédérick Raynal
iPad version: Nicolas Normandon
Artist : Yael Barroz
Music and sounds : Dominique Voegele
Magic Ball Network and its members who help us to translate bOxOn into several languages.