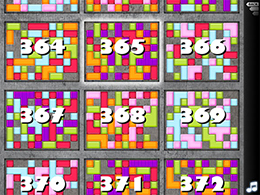 bOxOn offers 553 levels arranged in order of increasing difficulty. They are all made available in a list from the start of the game onwards.
Scroll down the list and click on the level of your choice. If you find it too difficult, return to the list and choose a level with a lower number. If on the contrary the level seems too simple, do not hesitate to choose one with a higher number further down the list to find a challenge that suits you.

Les 100 premiers tableaux d'une grande simplicité permettent de découvrir le principe de bOxOn sans être confronté à des situations trop inextricables. Puis très progressivement les espaces libres du plateau se raréfient ou le nombre des boxonites différentes diminue, donnant à bOxOn toute sa complexité. Observation, expérience et patience sont alors nécessaires pour venir à bout de tableaux qui se révèlent peu à peu être de véritables casse-têtes.