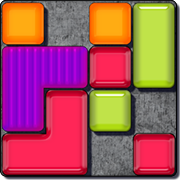 2011 This game was born in 2010, I was alone in a small hotel in Paris, with a bad connection and a few hours to spare. That was the right time to try this small mechanism I had been thinking about for a few years. Just some squares to move around, a kind of match 3 but in this case a match all.
The kind of situations you may encounter and the anticipation needed to clear a board excited me. A quick prototype later with flat colored rectangles, this is quite playable. Let's make some design choices and expose it. We used to play "MonoBlocks" a lot at home, this is the game that decided me to release my small experiments. So, a few months later, bOxOn was born, with 553 doable levels!
The version we used to play generated levels almost randomly, with no guaranty they could be accomplished. Every time a level was done, it was saved in the "doable" list. For the very difficult levels, I added the possibility to also save to a "possibly impossible level" list. Then the challenge was hard, sometimes several hours were needed to achieve a level. Isn't the joy proportional to the pain to get it ?