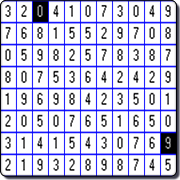 2006
CoolCode is another kind of kids coloring sheet. Download and print the size you want the grids from the file
CoolCode.zip
. Use a pen to colorize each cell following the numbers or letters order as explained below.

How to fill in a CoolCode Grid?
Start with an already coloured square using a same colour pen.

Look at the digit in it, here it's 3.

A start can use any number form 0 to 9.

Look at the 8 surrounding squares to find the next uncoloured digit. Here the 4.

Colour the #4 cell.

And now look for an uncoloured #5 digit around the previous #4 cell.

And so on...

Always well check the 8 squares around your last coloured square.

The drawing path can cross itself using diagonal making them easy to forget.

The next digit that comes after the 9 is the 0 and then 1,2,3... again.

Each time you reach a square with a 9 inside, look for the square with digit 0.

When you can't find the next square around the last you coloured, it means this drawing path is over.

If there is another already filled square, start again from this one.

When all pathes are well filled you should discover the hidden drawing.

COLOURS

Starting squares on the grid show you which colour to use to fill the drawing path.

LETTERS

Letters can be used instead of numbers. Than is order is (guess what?) A,B,C,D,E,F,...

The letter that follows the Z letter is A, then B,C,D, again,...

BRANCHES

A square can have multiple squares that create a second drawing path.

Mark square like a new beginning to come back when the first path is finished. Hereboth the squares #4 create two paths to follow.
Examples :