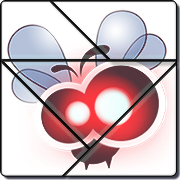 2006 "Origami + Puzzle = Oripuzzle "
Here is another creation I want to share with you. This is a manual puzzle. You'll need a few accesories: a printer, scissors or a cutter, a ruler and some precision.
Download the file Oripuzzle.zip that contains high resolution version of the pictures shown below.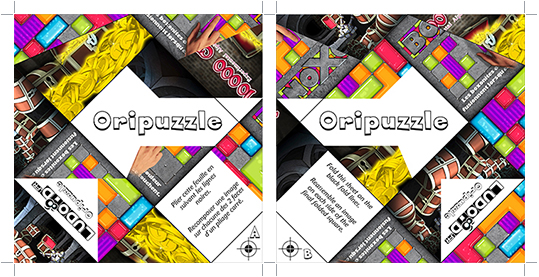 Print the pictures recto-verso on a sheet of (thick) paper or print two sheets and glue them together making perfectly fit the two sqares and targets A and B.

Cut the whites edges around the printed square.

Then, you are ready to play: Fold this sheet of paper following the drawn black edges.
you can do it, both ways, for all black lines before trying to solve it, it makes handling easier.
Try to recompose two square pictures, one on each side of a square folding (about 10 centimeters edges).
Once you get two complete pictures on each side, do it again to get two others pictures. Yes, there are two solutions.
Oripuzzle LBA

Do you like this idea ? Would you like to be able to upload four of your own pictures to make a gift, or playful flyers ? Tell us with the contact form, or write a comment here if you are logged in.