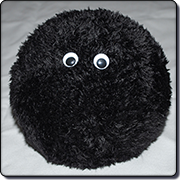 2008
It is the proof of concept of my electronic toys theory. A ball, no visible interface, but this ball recognizes moves you inflict to it and it talks, a lot…
Some years ago I offered to my children a high tech toy. A remote controlled walking robot, an ingeniously made, articulated and balanced robot. A few hours later, I noticed some disappointment. Obviously, something was missing. After some tests and interrogatories I understood why. They grew up with regular toys but also with video games on several kind of devices. They expect from the toy that it makes them play. Every mini pet life simulator key chain offers goals, rules, constraints and a result. Actually like a video game. It doesn't mean that they not have any more fantasy; they still play with a cardboard box (the console's box?), an articulated figurine or a ball. When they identify an item as a toy they know that they have to set their own rules and goals. But the more a toy is electronically complex, the more the expectation of interactivity and given challenges is important .
I then thought about integrating video games gameplay into traditional toys to change them to a game master that can propose activities and challenges. Is there a toy simpler than a ball to test this ?
Just handling it, the PainBall is fun. It shouts "Yoooupi" when you throw it in the air, "Ouch" when it touches back the ground (several sounds for several levels of hit force). Some xylophone notes come out from it when it rolls on the ground. It laughs when shacked. It's the toy mode.
If you hold it vertically in front of you (I know it's a sphere but they are some visual helpers) and wait a couple of seconds, it then speaks, telling you the name of the different game that you can choose holding the ball in the dedicated position and then shaking it. Let's play the Bomb game.
« Throw me to each other, but be careful because at the end of the countdown or if you are too brutal, I explode and who's holding me lose the game." Then starts the well known ticking sound…