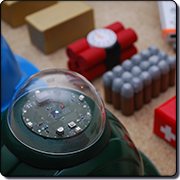 2009 It's another application of my electronic toys theory (see PainBall). Battle Tag is the first released toy from this concept.
But before I get there, I must be sure about its efficiency and verify the game experience quality. So to prove that a real toy is fun, it must be playable in the real world. So WiiTAG for PC was born.
Based on Wiimotes, the infrared beam direction is the opposite than the final product. As the sensors are in the controller the helmets (soon to become a vest) emit 360° coded infrared beam. The code in decrypted by a fast infrared sensor in a cylinder in front of the blaster, and the integrated camera is used to evaluate the shot accuracy!
To transform a regular laser game system into a First Person Shooter home simulation you need to manage the different games rules with a computer that is connected to the blasters through a bidirectional radio-frequency communication. Then you need to be able to recovery some life points and ammos on the battle field, so add an RFID sensor in the blasters and provide some real accessories with integrated RFID chip that look like their video game equivalent.
They are also use to set the position of each team base camp, or objective to scan to validate a mission.